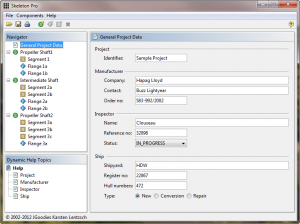 The JGoodies Swing Suite provides components and solutions that complement Swing to solve common user interface tasks. It advocates a UI production process that lets you save time and money while ensuring consistent and elegant design.
The Swing Suite is built upon our free libraries, adds professional support, example applications, custom components, prebuilt panels, dialogs and frames. It helps you start with Swing quickly and build sophisticated, rich client applications efficiently.
Purchase the JGoodies Swing Suite
Main Benefits
Your applications look better with our precise look&feels
You lay out and implement better screens faster
You get a good starting point for your next Swing project
You learn from our examples how to build good Swing apps
You are more productive with our convenience solution
You code Swing with style with our Application framework
The Swing Suite libraries have been tested by over 250,000 users of our freeware applications on Windows, Linux, Solaris, Mac OS X, and other platforms.s
FAQ
How can I evaluate the Swing Suite?
Check out our demos, then  download and work with the free libraries.
What is the relation between the free libraries and the Suite?
The Swing Suite includes the open source JGoodies libraries: Animation, Binding, Forms, Looks and Validation. It adds support, example applications with source code, several convenience classes and prebuilt panels, dialogs, and frames, as well as a user interface framework that addresses several everyday Swing tasks.
How can I convince my boss to license the Swing Suite?
Let your boss run the Metamorphosis demo; then analyse and discuss where you stay and where you want to go. If you build form-centric applications you may demonstrate Skeleton Pro.
If your boss has complained about the appearance and responsiveness of your Swing apps you may show JDiskReport – and don't say that it's Java!
If you need to validate data in your editors, show the Validation Demo and browse the different example that show how you can validate and how you can present validation results.
You can download the free JGoodies Looks, to showcase it in your application. Then learn to love Swing layout with the free JGoodies Forms; discuss the gain in quality and productivity.
Basically the question is how much time you save with the Swing Suite, and how much you increase the quality and whether you can reduce the risk in succeeding with Swing.
How can I learn more about the Swing Suite?
First off, the Swing Suite contains the free Looks, Forms, Binding and Validation libraries; download and test them! In addition the Suite brings all components, panels, dialogs, and more generally, solutions that you can see in our freeware tools and demos. Just launch them and see yourself!
You can test drive the Suite by running the form-centric Skeleton Pro demo and by running the full-featured JDiskReport tool.
If you are not sure about the Suite's content and value, download the freeware, integrate it into your application, then ask yourself whether you save time, gain quality, or just feel better when working with Swing.